Apollo 20, canceled by NASA, was allegedly resumed under Project Horizon by the USAF.
US Space Force
Edit
Under the NASA space program, the final three Moon landings, Apollo 18, 19, and 20 were originally rescheduled for 1973 and 1974.[1] However, the cancellation of Apollo 20, subsequently prompted the cancellation of all three final Apollo missions.[2] The USAF allegedly picked up the tab for a budget crunched NASA, and allocated the final three Apollo missions to Project Horizon for lunar military reconnaissance. Horizon was first proposed in 1959, but scrapped by Eisenhower.[3] The project was likely put through during the Nixon administration in the early 70's. This program became the precursor to the US Space Force, a branch of the USAF.
Phase III
Edit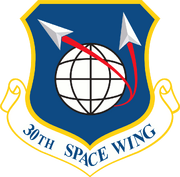 Apollo 20 was a phase III mission to operate in the South Pole–Aitken basin on the far side of the Moon, scheduled for launch, 16 August 1976. Apollo 20 comprised of the Saturn V moon rocket, launched from a NASA No-Access zone, just south of Surf beach (south of Ocean blvd). The control center was 30th Space Wing at Vandenberg Air Force Base, California. Apollo 20 was the first and only USAF lunar mission to include a cosmonaut in its crew.
Extraterrestrial phenomena
Edit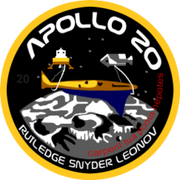 The Apollo 20 mission badge, as seen in the Apollo 20 film, depicts a sarcopuhagus being mutually lifted-up by an Apollo Lunar Module and Command Service Module. The sarcopuhagus graphic on the Apollo 20 insignia supports the claim of having pre-knowledge of evidence for extraterrestrial biological entities encountered on earlier Apollo missions. The designated landing zone for Apollo 20 was in the Delporte-Izsak region, close to the Tsiolkovsky crater, on the far side of the Moon. This mission was considered successful in allegedly recovering evidence for extraterrestrial biological entities (See Mona Lisa).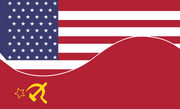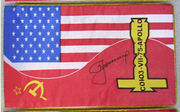 Disclosure
Edit
Specifications
Edit
References
Edit
↑ "Budget Cuts, Revisions Could Delay Apollo Flights," Press-Telegram (Long Beach, CA), Jan. 6, 1970, pA-7
↑ Slayton, D.K.; Cassutt, M. (1995). Deke ! U.S. Manned Space From Mercury To the Shuttle. Tom Doherty Associates. Template:Citation/identifier. https://books.google.com/books?id=_S-PoBi8Eu8C&lpg=PA252&pg=PA252#v=onepage&q&f=false

. Retrieved 11 December 2017

.

 

↑ Logsdon, John (2010). John F. Kennedy and the Race to the Moon. Palgrave Macmillan. Template:Citation/identifier.

 
Resources
Edit