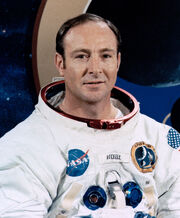 Edgar Dean "Ed" Mitchell (September 17, 1930 – February 4, 2016) was a United States Navy officer and aviator, test pilot, aeronautical engineer, ufologist and NASA astronaut. As the Lunar Module Pilot of Apollo 14, he spent nine hours working on the lunar surface in the Fra Mauro Highlands region, making him the sixth person to walk on the Moon.[1]
Extraterrestrial phenomena
Edit
On Feb. 5, 1971, Edgar Mitchell became the sixth of only 12 men to step on the moon. Of the twelve, Mitchell is the only one to go on record[2] about his controversial belief in extraterrestrial UFOs.[3] Mitchell devoted much of his later life to studying the mind and unexplained phenomena. In 2008, he claimed that aliens had visited Earth and said he believed there was a government cover-up.[4]
"I happen to have been privileged enough to be in on the fact that we've been visited on this planet and the UFO phenomena is real," he said in an interview with British radio station,[5] Kerrang Radio.[4]
"It's been well covered up by all our governments for the last 60 years or so, but slowly it's leaked out and some of us have been privileged to have been briefed on some of it."[4]
Kerrang Radio host Nick Margerrison's response : "I thought I'd stumbled on some sort of astronaut humour but he was absolutely serious that aliens are definitely out there and there's no debating it."[6]
Mitchell addressed the issue of extraterrestrial life at the National Press Club in Washington after the X-Conference, a convention of UFO researchers and activists.
"We are being visited," he said. "It is now time to put away this embargo of truth about the alien presence. I call upon our government to open up ... and become a part of this planetary community that is now trying to take our proper role as a spacefaring civilisation."[7]
See also
Edit
References
Edit
Resources
Edit