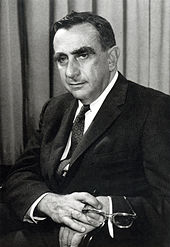 Strategic Defense Initiative
Edit
In the 1980s, Teller began a strong campaign for what was later called the Strategic Defense Initiative (SDI), derided by critics as "Star Wars," the concept of using ground and satellite-based lasers, particle beams and missiles to destroy incoming Soviet ICBMs. Teller lobbied with government agencies—and got the approval of President Ronald Reagan—for a plan to develop a system using elaborate satellites which used atomic weapons to fire X-ray lasers at incoming missiles—as part of a broader scientific research program into defenses against nuclear weapons.[1]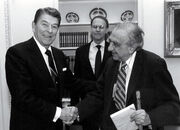 Scandal erupted when Teller (and his associate Lowell Wood) were accused of deliberately overselling the program and perhaps had encouraged the dismissal of a laboratory director (Roy Woodruff) who had attempted to correct the error.[2] His claims led to a joke which circulated in the scientific community, that a new unit of unfounded optimism was designated as the teller; one teller was so large that most events had to be measured in nanotellers or picotellers.[3]
In 1987 Teller published a book supporting civil defense and active protection systems such as SDI which was titled Better a Shield than a Sword and his views on the role of lasers in SDI were published, and are available, in two 1986-7 laser conference proceedings.[4][5]
References
Edit