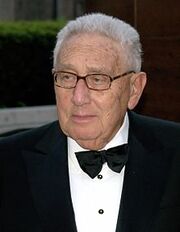 Henry Kissinger taught at Georgetown's Edmund Walsh School of Foreign Service for several years in the late 1970s. Kissinger was appointed to Georgetown University's Center for Strategic and International Studies.[1]
In 1982, with the help of a loan from the international banking firm of E.M. Warburg, Pincus and Company,[2] Kissinger founded a consulting firm, Kissinger Associates, and is a partner in affiliate Kissinger McLarty Associates with Mack McLarty, former chief of staff to President Bill Clinton.[3] He also serves on the board of directors of Hollinger International, a Chicago-based newspaper group,[4] and as of March 1999, was a director of Gulfstream Aerospace.[5]
From 1995 to 2001, Kissinger served on the board of directors for Freeport-McMoRan, a multinational copper and gold producer with significant mining and milling operations in Papua, Indonesia.[6] In February 2000, then-president of Indonesia Abdurrahman Wahid appointed Kissinger as a political advisor. He also serves as an honorary advisor to the United States-Azerbaijan Chamber of Commerce.
From 2000–2006, Kissinger served as chairman of the board of trustees of Eisenhower Fellowships. In 2006, upon his departure from Eisenhower Fellowships, he received the Dwight D. Eisenhower Medal for Leadership and Service.[7]
References
Edit