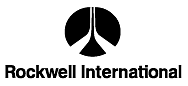 Rockwell International was a major American manufacturing conglomerate in the latter half of the 20th century. It was involved in defense contracts for aerospace manufacturering in both the aircraft and the space industry. Rockwell ultimately became a group of companies founded by Colonel Willard Rockwell. At its peak in the 1990s, Rockwell International was No. 27 on the Fortune 500 list. Rockwell split into two companies in 2001, Rockwell Automation and Rockwell Collins.
North American Rockwell
Edit
Los Angeles-based North American Aviation (NAA) built the second stage of the Saturn V moon rocket. Boeing's first stage, and North American's second stage, were both test fired at the Stennis Space Center located near Bay St. Louis, Miss.[1]
The NAA built the Apollo Command/Service Module in 1964, but after the Apollo 1 cabin fire in January 1967 that killed Gus Grissom, Ed White and Roger B. Chaffee, NAA soon dissolved. The Pittsburgh-based Rockwell Standard acquired and merged with North American Aviation (NAA) to form North American Rockwell in September 1967.[2] Rockwell would now be part of the redesign team for the Apollo Command/Service Module.
By 1973, North American Rockwell merged with Rockwell Manufacturing, run by Willard Rockwell, Jr., to form Rockwell International.
Vandenberg 20
Edit
In August of 1976, Rockwell International, founded 1973, assisted with the ingress of the alleged "Vandenberg 20" (Apollo 20) mission crew at Vandenberg Air Force Base, California.
References
Edit
↑ "Rockwell". GlobalSecurity.org. Global Security. http://www.globalsecurity.org/military/industry/rockwell.htm

. Retrieved 2010-08-30

. "Rockwell and aerospace giant North American Aviation merged in 1967 to form Rockwell North American."